Registration Link : http://socialcamp.eventbrite.com
Sponsors:



What :
This is a one-day semi-camp style "unconference"* which brings together stakeholders and audiences of social media and blogging. The wave of social media in India (which includes Facebook,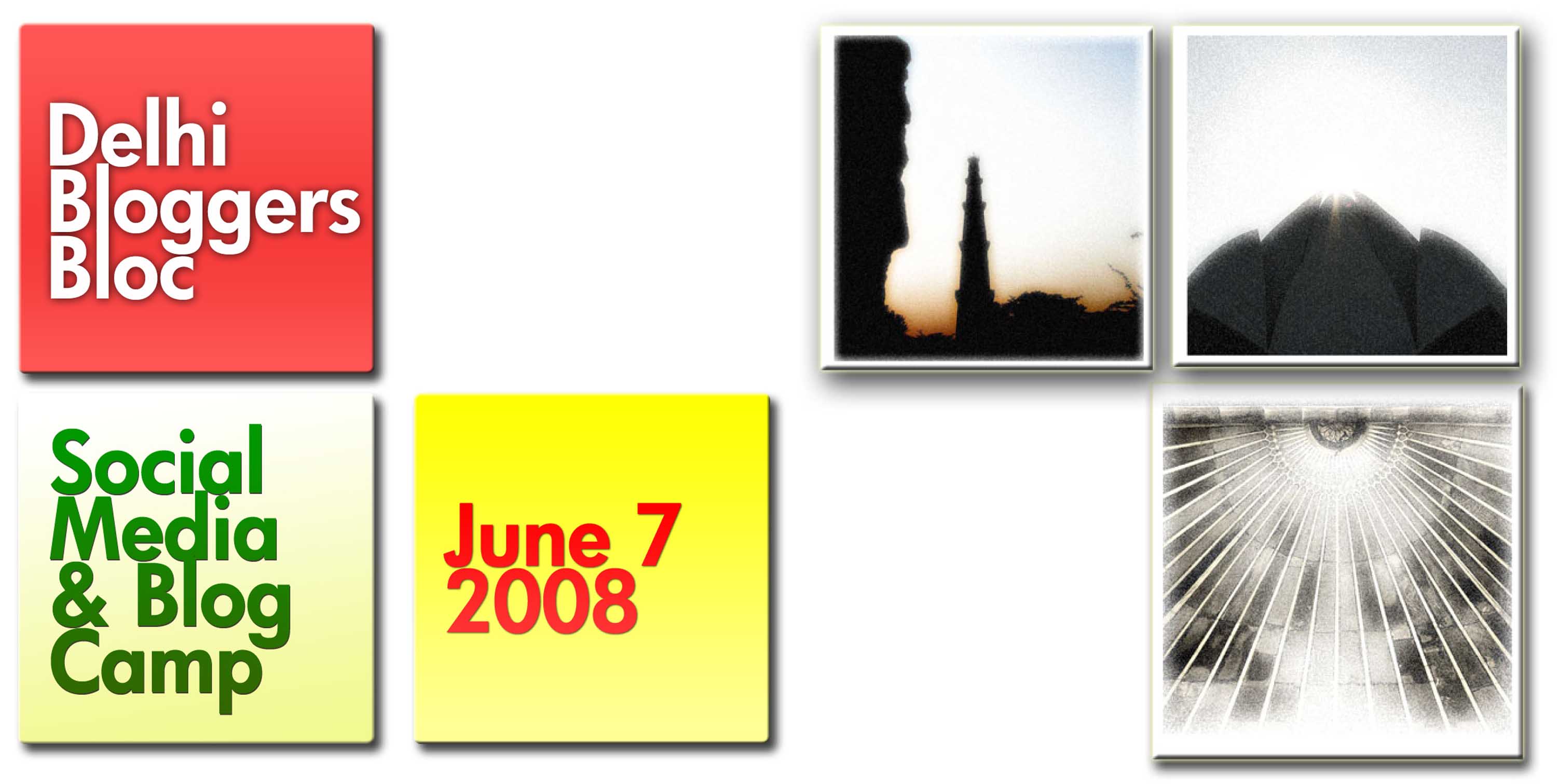 Myspace, Twitter, LinkedIn, Ryze, Orkut, YouTube, Flickr and many more) has led to a huge interest in the personal and business implications of this here-to-stay form of interaction. Blogging has already been a huge platform of expression for professionals and citizens from all walks of life.
The idea is to provide an ongoing and large platform of interaction for everyone, from entrepreneurs to enthusiasts, from technology to marketing experts, and from media to PR, to enrich themselves with a whole world of learning and business opportunities.
Where :
Date : 7th June'08 (Saturday), 9:30am – 5:30pm
Venue : Indiatimes Office,
7th Floor, Times Internet Ltd.
I World , Opp. DLF Golf Course,
DLF City Phase V,
Gurgaon, Haryana – 122005
The venue is wifi enabled and has an auditorium, projectors and a board room for parallel tracks if the need arises. Lunch/tea/coffee/snacks would be provided by our prime sponsor – Indiatimes.
Parking : this will be provided inside Indiatimes office; Map: http://xrl.in/5lk
Who:
Experts/executives from social media related platforms or blog platforms, Journalists who know how blogs have become an alternative to mainstream media, Professionals who have used social media to connect and build communities, Marketers (clients or agencies) who are using social media/blog strategies, Techies/application developers in these fields, Entrepreneurs who have ideas around social media and blogging platforms, bloggers (corporate, professional and otherwise), blogreaders who want to know a bit more, PR professionals looking to develop/enhance their blogger relationship programs, Marketers who want to look at case studies on how others are using the same.
HURRY! REGISTER HERE AS A SPEAKER, DELEGATE OR EVEN AS A SPONSOR.
Some exciting sessions already lined up:
Taxonomy of Blogs: A Media Perspective : Madhavan N, senior journalist

Digital Marketing for the Travel Industry in the Web 2.0. Scenario : Nirat Bhatnagar, founder chahiye.info

Bringing "Social" to software : Manish Dhingra, founder Tekriti software

Where are you going in your social media car? : Rajesh Lalwani, Blogworks.in

Impact of social media on purchase – case study : Rajesh Lalwani, Blogworks.in

Social media – Socio cultural implications and trends : Manav Deep Mianwal, Head Brand & Media, Airtel enterprise services

Using social media in the corporate context – Natraj Akella, Brand strategy & marketing, IBM

Participatory Media: The view from inside – Shyam Somanadh, Principal Architect, Network18 (Web18)

Communities : Lessons, Challenges, Opportunities – Nikhil Pahwa

Why must you tweet: Micro-blogging v. Blogging – Sanjukta Basu, Blog and New Media evangelist

Exploiting the Internet – Riding somebody else's Success – Jamshed V Rajan, Director products, Ibibo web pvt limited.

What makes mobile social networks successful? – Interactive session by Ekta Rohra Jafri

Blogging Superstars : How to monetize a blog effectively? – Mohit Maheshewari, Co-founder Tonic Tag Media Pvt Ltd

Law & Technology – Gurpreet Singh, Internet Attorney

Protecting "New" in New Media – Prashant Singh

Knowledge sharing: Should I use the Social platform – Aparajita Suman. Consultant-KM
#Event Details:
09:30am – 10:00am : Registration
10:00am – 11:15am : Speakers present topics
11:15am – 11:45am : Tea/coffee/snacks
11:45am – 01:15pm : Speakers present topics
01:15pm – 02:00pm : Lunch
02:00pm – 04:00pm : Speakers present topics
04:00pm – 04:15pm : Tea
04:15pm – 05:15pm : Speakers present topics
05:15pm – 05:30pm : Feedback/closing of the event